Interested in coming along?
Monday 2nd July, 12:00 - 16:00 - Festival of Ageing Launch, Manchester Art Gallery
Wednesday 4th July 9:00 - 17:00 - Bury Main Festival Event, The Millgate Shopping Centre
Tuesday 10th - Saturday 14th July, 10:00 - 17:00 daily - Bury Art Museum
Saturday 22nd - Sunday 30th September - Prestwich Arts Festival, Basil + Lily
Monday 1st October - Elders Exchange Day, The Royal Exchange Theatre
Saturday 3rd - 20th December  - The ESRC Festival of Social Science 2018, The Manchester Museum
The exhibition has now finished its 6 month tour - it will find a permanent home soon!

People Age Differently
... shaped by their unique habits, hobbies and histories.  Whilst there are some common aspects, older people in Prestwich lead different lives than those in Pendlebury, those in Didsbury are different from Droylsden and Chorlton different from Cheetham Hill.  Older people are different and our region is different too.

Place Belonging Manchester...
...is a photo and story collection created by Amy Barron, a researcher in Human Geography at the University of Manchester and friends from Prestwich, Greater Manchester.  It is to be displayed at locations around Greater Manchester in 2018. The schedule will be updated at the top of this page as more events are announced. 
The photographs and stories shared were created during an on-going three-year research project whilst talking and walking with older people around areas of personal significance.  The project explores the diverse ways in which older people create a sense of place for themselves in our city-region.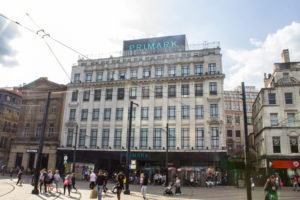 "I was a, shall I give it a posh name, I was a display artist at, well you won't know it. Where Primark is now, was a big store called Lewis's and I used to make the most fabulous displays.  When it was the Queen's coronation we made papier Mache coats of arms and crowns for all the different shops.  When Lewis' was closing I went to the staff entrance and asked if I could have look around because I was so upset, so they let me in and I had a little look around.  Oh, I did love it"
Bella, 83


Having a great time sharing my #PlaceManchester collection, some great conversations, reminiscences and laughs today @MillGateBury. @FOABuryBolton @GMAgeingHub pic.twitter.com/045kofLqVc

— Amy Barron (@AmyCBarron) July 4, 2018


  "

There are subtle differences in the ways in which people relate to place. This collection disrupts reductive narratives of ageing."

Amy Barron, Researcher

What a great photo exhibition by @AmyCBarron showcasing the ways in which older people relate to Greater Manchester. #GMFOA #AgeFriendlyGM pic.twitter.com/Lm49AjaVcL

— Ambition For Ageing (@AfAgeing) July 4, 2018

Place

(pleys) noun.

1. a portion of space used for habitation.

Places are made through their connections with other places and times.

Belonging

(bih-lawng-ing) noun.

1. something that belongs.

Belonging is the coming together of various elements which facilitate a sense of comfort.

Manchester 

(man-ches-ter) noun.

1. a town in NW England, part of Greater Manchester.

Prestwich, Greater Manchester was the starting point for this research. Participants volunteered to share how their own life-histories influence their sense of place and feelings of belonging in Greater Manchester.

Age

(eyj) noun.

1. the length of time during which a being or thing has existed.

This collection offers a way of disrupting reductive narratives of older age. It illustrates the often-overlooked factors in how people relate to place and shows how experiences are shaped by individuals' histories, feelings about the future and shared understandings of place.